Gestionnaire de l'acquisition de talents
We usually respond within a day
L'opportunité
Relevant du VP, Effectifs and Culture, le/la gestionnaire en acquisition de talents mondiaux est responsable du développement et de l'exécution d'une stratégie mondiale de recrutement et d'intégration. Le/La titulaire sera responsable de l'encadrement et du perfectionnement des conseillers(ières) en acquisition de talents et offrira une expérience de premier ordre aux candidats.es et aux gestionnaires d'embauche. Vous assurerez la bonne prestation des services en mettant en œuvre et en surveillant les principaux indicateurs de rendement et en dirigeant la mise en œuvre des projets stratégiques qui vous seront affectés.
Ce que vous ferez
Vous travaillerez en étroite collaboration avec les chefs de département et les partenaires commerciaux des RH pour élaborer des plans annuels de dotation et établir une stratégie globale d'acquisition de talents afin d'attirer les meilleurs talents
Vous administrerez tout le processus d'embauche et l'expérience des candidats, en plus de mettre en place des processus pour favoriser les gains d'efficacité et améliorer les processus au besoin ;
Vous fournirez aux conseillers en acquisition de talents des conseils et de l'encadrement pour favoriser leur croissance et leur développement.
Vous proposerez des stratégies de recrutement innovantes grâce à des techniques de sourçage nouvelles et créatives visant à attirer des recrues de haute qualité.
Vous dirigerez l'élaboration et la mise en œuvre de solides stratégies de sensibilisation aux médias sociaux pour le recrutement, y compris la sélection et l'utilisation de plateformes de médias sociaux alternatives.
Vous mettrez en place un tableau de bord avec les indicateurs clé de performance pour mesurer l'efficacité du service d'acquisition de talents, du processus d'intégration et de la rétention à long terme.
Vous établirez des liens et des partenariats avec des établissements d'enseignement et créerez et maintiendrez un réseau de contacts en participant à divers salons et événements de l'emploi.
Vous travaillerez en étroite collaboration avec les partenaires commerciaux des RH, les conseillers en assistance technique, les gestionnaires d'embauche, les représentants du corps professoral et d'autres fournisseurs de services pour coordonner le bon déroulement des événements de recrutement.
Vous établirez et administrerez des partenariats avec des cabinets et agences de recrutement que vous utiliserez pour des postes ou des projets clés.
Vous ferez la dotation de postes de haut niveau à l'échelle mondiale.
Vous vous assurerez que toutes les directives en matière de contrôle interne, de conformité et de réglementation sont respectées ;
Vous dirigerez la refonte et la mise en œuvre du nouveau programme d'intégration des nouveaux employés.
Vous superviserez les programmes d'attraction de talents tels que le programme de recommandation d'employés et introduirez d'autres méthodes innovantes pour attirer les talents dans l'entreprise.
Ce que vous proposez
Un minimum de 7 à 10 ans d'expérience dans le cycle complet de recrutement dont plus de 2 ans d'expérience en recrutement international
Diplôme universitaire en ressources humaines, administration des affaires ou dans un domaine connexe
Bilinguisme (français et anglais) à l'écrit et à l'oral
Capacité d'avoir une influence positive et d'établir des partenariats à tous les niveaux de l'organisation
Excellentes compétences en leadership, avec la capacité de résoudre des problèmes grâce à la collaboration et un engagement à exécuter le travail
Professionnalisme, crédibilité et capacité à établir des relations avec les parties prenantes internes et les candidats et fournisseurs de services externes
Expérience et expertise dans les domaines suivants : amélioration de l'expérience candidat, techniques d'évaluation des candidats, stratégies d'approvisionnement, approvisionnement en médias en ligne, principes d'équité salariale
Capacité à tirer parti des outils de médias sociaux conçus à des fins de recrutement ; Très réactif(ive) et capacité à travailler de manière efficace et efficiente dans un environnement commercial complexe et au rythme rapide
Capacité avérée à recruter des candidats de haut niveau
Excellentes compétences en organisation
Excellentes compétences de présentation en français et en anglais
Capacité à gérer le changement et à travailler de manière autonome
Attitude motivée, positive et flexibles
Engagement élevé envers l'excellence et le service à la clientèle
Connaissance des applications Microsoft Office et des systèmes ATS/HRMS
L'adhésion à l'Ordre des CRHA est considéré comme un atout

The Opportunity
Reporting to the VP People and Culture, the Global Talent Acquisition Manager is responsible for the development and execution of a Global recruitment and onboarding strategy. The incumbent will be responsible for coaching and developing Talent Acquisition Advisors and deliver a first-rate experience to candidates and hiring managers. You will ensure smooth delivery of services by implementing and monitoring KPIs and leading the implementation of assigned strategic projects.
What you will do
Work closely with department leaders and HR Business Partners to develop Annual Staffing plans and establish an overarching talent acquisition strategy to attract top talent
Manage the end-to-end hiring process, the total candidate experience and implement efficiencies and process improvements as required;
Provide Talent Acquisition Advisors with guidance and coaching to grow and develop
Drive innovative recruitment strategies through new and creative sourcing techniques in order to attract high quality hires
Lead the development and implementation of robust social media outreach strategies for recruitment, including the selection and use of alternative social media platforms
Establish a KPI dashboard to measure effectiveness of the talent acquisition service, onboarding process and long term retention
Establish ties and partnerships with Educational institutions as well as create and maintain a network of contacts by participating in various career fairs & events
Work closely with HR Business partners, TA advisors, hiring managers, faculty representatives, and other service providers to coordinate smooth execution of recruitment events
Establish and manage partnerships with recruitment firms and agencies to be used for key positions or projects.
Recruit senior level positions globally.
Ensure all internal control, compliance and regulatory guidelines are met;
Lead the New employee onboarding program redesign and implementation.
Oversees talent attraction programs such as the Employee Referral Program and introduce other innovative methods for attracting talent to the company.
What you bring
A minimum of 7 -10 years' experience of full cycle recruiting with 2+ years of experience in International recruitment.
University degree in Human Resources, Business Administration or related field
Bilingual (French & English), written and oral
Ability to positively influence and build partnerships at all levels of the organization
Excellent Leadership skills, with the ability to solve problems through collaboration and a commitment to getting the job done
Professional, credible and have the ability to build relationships with internal stakeholders and external candidates & service providers.
Experience and expertise in the following areas: elevating the candidate experience, candidate assessment techniques, sourcing strategies, web-based media sourcing, pay equity principles.
Ability to leverages social media tools designed for the purposes of recruitment; Highly responsive with an ability to operate efficiently and effectively in fast paced, complex business environment
Proven ability to recruit senior level candidates
Excellent Organizational skills
Excellent presentation skills in both French and English
Ability to manage through change and work independently
Self-motivated, positive and flexible outlook
High commitment to excellence and customer service
Knowledge of Microsoft Office applications and ATS/HRMS systems
Member of the Ordre des CRHA is considered an asset.
Department

HR

Remote status

Hybrid Remote
We usually respond within a day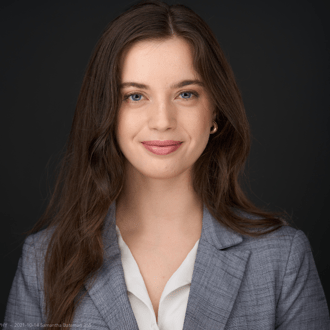 Contact
Clara D'Alessandro
Talent Acquisition Advisor / Conseillère en acquisition de talents
Related jobs
Already working at Integria Consulting?
Let's recruit together and find your next colleague.