Officier de la sécurité sénior
We usually respond within a day
Relevant du Directeur du bureau de gestion de projets (PMO), du déploiement et de la sécurité, l'Officier de la sécurité sénior (OSS) est chargé d'établir un programme de sécurité couvrant les activités de sécurité physique et cybersécurité à travers tous les bureaux de la compagnie. À ce titre, l'OSS est responsable de la gestion quotidienne de la sécurité de l'entreprise pour tous les bureaux de FTI. Le mandat du programme de sécurité est centré sur des activités qui sont conçues pour répondre:
1. Aux questions de sécurité́ axées sur le client et qui incluent:
L'ajout de fonctions de sécurité pour notre ligne de produits afin d'assurer leur conformité aux normes internationales de sécurité́ informatique telles que NIST800-53 et ISO-27000.
La capacité de traverser avec succès les audits de certification de nos clients.
L'administration du processus d'attestation de sécurité.
2. Aux problèmes de sécurité interne tels que la protection des employés, notre technologie, les données appartenant à l'entreprise ainsi que la protection de nos installations. Ces éléments comprennent:
La sécurité physique: contrôle d'accès, systèmes d'alarme, les systèmes de protection contre les incendies, etc.
La sécurité des réseaux et la protection de l'information électronique.
La reprise des activités après sinistre et les plans d'urgence nécessaires pour assurer la poursuite du programme de continuité des affaires.
Rôles et responsabilités
L'Officier de la sécurité sénior est le principal point de contact avec nos clients sur tous les sujets qui ont trait à la sécurité.
L'OSS est responsable de s'assurer que les exigences de sécurité de nos clients sont bien comprises par notre personnel et sont mises en œuvre dans nos produits ainsi que dans nos pratiques de travail, le cas échéant. Il/elle est également responsable de démontrer que nos mesures et programmes de sécurité interne répondent aux exigences de nos clients. Un élément clé de ce poste est le développement et le maintien à long terme de relations d'affaire avec les représentants de la sécurité de nos clients.
En outre, le OSS travaillera conjointement avec les gestionnaires de divers départements dans le but d'établir les orientations stratégiques en matière de sécurité et de fournir une orientation si nécessaire. Cela comprend :
La Gestion des produits afin de développer une feuille de route pour l'évolution et l'intégration de fonctionnalités de sécurité dans nos produits.
Le Développement de produits afin de s'assurer que les exigences de sécurité de nos clients sont comprises et correctement intégrées dans nos produits.
La Validation afin de s'assurer que les fonctions de sécurité des produits sont testées et validées de manière appropriée.
Les Ventes et le marketing afin d'analyser les exigences de sécurité lors de réponses aux appels d'offres ou lors des négociations contractuelles.
Le Bureau de gestion de projets et programme afin de les aider à suivre la satisfaction des exigences de sécurité requises par les clients.
L'OSS agira également à titre de conseiller auprès du groupe de la Technologie de l'information avec comme objectif de :
Établir des lignes directrices pour la sécurité du réseau;
S'assurer que les applications internes sont conformes aux exigences de sécurité de nos clients ainsi qu'aux normes internationales;
Répondre aux attaques de virus et de logiciels malveillants;
Formuler des recommandations et évaluer les contrôles de sécurité des réseaux;
Réaliser les audits internes sur les systèmes de réseaux informatiques, les systèmes ordinateurs et les procédures d'exploitation standard utilisées sur les programmes externes;
Maintenir une veille technologique afin d'identifier les menaces et les vulnérabilités qui pourraient affecter la sécurité du réseau.
Autres compétences
Comprend et répond adéquatement aux besoins des clients internes et externes tout en s'assurant que nos produits et services sont alignés avec leurs besoins.
Sait représenter l'entreprise avec dignité, respect et professionnalisme lors d'interactions avec des clients externes.
Sait établir de bonnes relations de travail avec les clients internes et externes.
Agit à titre de mentor ou de coach auprès de ses collègues en regard de sa discipline.
Gère son emploi du temps et ses projets afin de rencontrer les délais tout en respectant les objectifs de qualité.
Communique efficacement l'état d'avancement de ses tâches et/ou des projets ainsi que les obstacles à surmonter et tous autres éléments pouvant mettre à risque le succès du projet.
Communique clairement et efficacement avec les collègues, les clients et la direction.
Confortable dans le cadre de la vulgarisation de concepts complexes.
Sait motiver et mobiliser ses collègues lorsque ceux-ci doivent participer à des activités indirectement associées à leurs tâches.
Capable d'écouter ses collègues et de fournir des critiques constructives.
Démontre un sens supérieur de l'analyse en étant capable de faire le lien entre une situation donnée (problème, bug, changement) et son impact sur le produit ou son utilisation par le client que ceux-ci soient internes et externes (Production / Déploiement / GCS).
Évalue adéquatement la sévérité des défaillances ou des problèmes rencontrés ainsi que leur impact sur l'entreprise.
Participe activement au partage des connaissances techniques avec des collègues.
Utilise de façon constante son influence dans ses relations avec ses collègues afin d'améliorer la qualité de nos produits et services.
Qualifications et expérience
Formation universitaire dans une discipline appropriée ou une expérience équivalente.
Une ou plusieurs des accréditations suivantes : CISSP, CISM et CISA.
15-20 ans d'expérience démontrée dans le domaine de la sécurité.
Un minimum de 10 ans d'expérience dans le domaine de la sécurité informatique.
Familier avec tous les aspects de l'architecture de sécurité dès l'applications, notamment:
Connaissance fonctionnelle des applications de sécurité, des protocoles de sécurité et des concepts de sécurité tels que Firewalls, VPNs PKI, routeurs, commutateurs, VLANs, cryptage des données, sauvegarde et récupération, etc.
Expérience IDS/IPS, expérience de Firewalls (Cisco et CheckPoint), PenTest, expérience de gestion des vulnérabilités, expérience de durcissement avec le système d'exploitation (MS Windows), renforcement de la base de données.
Connaissance approfondie des normes Nord-Américaines (NIST) et/ou internationales de sécurité des technologies de l'information (ISO)
Expérience dans la conception et la mise en œuvre d'un plan de la continuité́ des affaires, de gestion des crises et des programmes de sécurité.
Capacité à travailler dans un environnement matriciel avec la capacité d'atteindre des objectifs tout en n'ayant pas nécessairement l'autorité hiérarchique directe.
Excellentes aptitudes en communication ainsi que la capacité à communiquer à plusieurs niveaux autant à l'interne qu'avec les clients externe.
Doit avoir de l'expérience dans un environnement axé sur le travail d'équipe et être capable d'établir d'excellentes relations de travail avec ses collègues.
Parfaitement bilingue, français et anglais, à l'oral et à l'écrit. La connaissance fonctionnelle de l'espagnol est un atout.
Une expérience à traiter avec les agences gouvernementales serait un atout.
Reporting to the PMO, Deployment and Security Manager, the Senior Security Officer (SSO) is responsible for establishing a Security Program covering both physical and cyber security activities throughout the company's various locations. In this capacity, the SSO is responsible for the day-to-day management of corporate security at all FTI locations. The mandate of the Security Program is centered on activities that are designed to address:
1. Client-driven security issues that include:
The addition of security features to our product line to ensure their compliance to international IT Security standards such as NIST800-53 and ISO-27000.
The ability to successfully undergo our clients' certification audits.
The administration of security clearance processes.
2. Internally-driven security issues such as the protection of our employees, our technology and proprietary data and as well as the protection of our facilities. These issues include:
Physical security: Access control, alarm systems, fire protection systems, etc.
Network security and protection of electronic information.
Disaster recovery and contingency plans necessary to ensure the adequacy of the Business Continuity program.
Roles and responsibilities

The Senior Security Officer is the primary point of contact with our clients on all matters that relate to security.
The SSO is responsible to ensure that our clients' security requirements are properly understood by our personnel and are implemented in our products as well as our work practices where applicable. He/she is also responsible to demonstrate that our internal security measures and programs meet the requirements of our clients. A key component of this position is the development and building of productive long-term collaborative relationships with our client's security representatives.
In addition, the SSO will work jointly with Managers from various departments with the objective of setting strategic directions in matters of security and providing guidance where necessary. This includes:
Product Management to develop a road map for the evolution and incorporation of security features in our products.
Product Development to ensure that our clients' security requirements are understood and properly incorporated in our products.
Validation to ensure that product security features are tested and validated appropriately.
Sales & Marketing to analyze security requirements when addressing request for tenders or during contract negotiations.
Program Management to track help meet the security requirements provided by existing clients.
The SSO will also act as an advisor to the Information Technology group with the objective of:
establishing guidelines for network security;
ensuring that internal applications are compliant to our clients' security requirements as well as to selected international standards;
responding to virus and malicious software attacks;
making recommendations on and perform assessments of network security controls;
performing internal audits of IT network, computer systems and of standard operating procedures used on external programs;
maintaining a technology watch to identify threats and vulnerabilities that could affect network security.
Other competencies
Understands and adequately responds to the needs of internal and external clients while ensuring that our products and services are aligned with their needs.
Knows how to represent the company in a dignified, respectful and professional manner when interacting with external clients.
Knows how to establish good working relations with internal and external clients.
Acts as mentor or coach to his co-workers in relation to his field.
Manages his time and projects to meet deadlines while complying with quality
objectives.
Efficiently communicates the status of tasks and/or projects as well as the obstacles to overcome and any other aspect that could jeopardize the project's success
Clearly and efficiently communicates with co-workers, clients and Management.
Comfortable with complex concepts presented in layman's terms.
Knows how to motivate and mobilize his colleagues when they are required to take part in activities indirectly related to their duties.
Able to listen to his colleagues and provide constructive criticism.
Shows superior analytical skills while being able to draw a connection between a given situation (problem, bug, change) and its impact on the product or its use by both internal and external clients (Production/Deployment/GCS).
Adequately assesses the severity of the failures or problems that are encountered as well as their impact on the company.
Actively takes part in sharing technical knowledge with colleagues.
Is influential in relations with his colleagues in an aim to improve the quality of our products and services.
Qualifications and experience
University education in an appropriate discipline or equivalent experience.
One or more of the following accreditations is preferred: CISSP, CISM, and CISA.
15-20 years of demonstrated experience in the field of security.
A minimum of 10 years experience in the field of Information Technology security.
Familiar with all aspects of application security architecture including:
Working knowledge of security appliances, security protocols, and security concepts such as Firewalls, VPNs PKI, routers, switches, VLANs, data encryption, back-up and recovery, etc.
IDS/IPS experience, Firewall (Cisco and CheckPoint) experience, PenTest, Vulnerability Management experience, OS (MS Windows) hardening experience, database hardening experience
In-depth knowledge of North American (NIST) and/or International Information Technology Security Standards (ISO)
Experience in the design and the implementation of Business Continuity, Crisis Management and Security programs.
Ability to work in a matrix environment with the capacity of achieving objectives while not necessarily having direct line authority.
Excellent communication skills as well as the ability to communicate at multiple levels both internally and externally with customers.
Must have experience in a team-oriented environment and be capable of establishing excellent working relationships with his colleagues.
Fluently bilingual with command of spoken and written French and English. Functional knowledge of Spanish is an asset.
Experience dealing with Government Agencies would be an asset.
Remote status

Hybrid Remote
We usually respond within a day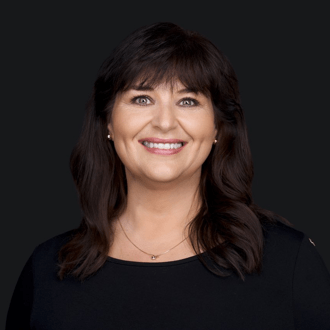 Contact
Mandy Danko
Conseillère principale en acquisition de talents / Senior Talent Acquisition Advisor
Already working at Integria Consulting?
Let's recruit together and find your next colleague.