Gestionnaire des rh
We usually respond within a day
 Description
Nous sommes présentement à la recherche d'un(e) gestionnaire des ressources humaines de talent possédant un haut niveau de connaissances générales en ressources humaines pour notre équipe de Montréal. Dans ce rôle, vous travaillerez aux côtés de notre responsable des ressources humaines du Royaume-Uni pour examiner la fonction RH de Montréal et identifier un plan pour l'avenir qui soutiendra les meilleures pratiques pour le département des ressources humaines dans notre entreprise en évolution rapide et en croissance. Le/La candidat(e) retenu(e) aura fait ses preuves en matière de résolution de problèmes efficaces et de pensée critique et sera responsable de la prestation de tous les aspects de la fonction RH au bureau de Montréal, y compris toutes les tâches administratives.
Ce que vous ferez
Fournir des conseils professionnels en matière de RH aux gestionnaires hiérarchiques, en tenant compte des pratiques exemplaires et des tendances, et en veillant à ce que les décisions et les pratiques de gestion des RH soient conformes à la législation ainsi qu'aux règles et aux valeurs de l'entreprise.
Assurer la prestation efficace de toutes les tâches administratives des RH relatives au cycle de vie complet des employés.
Mener des enquêtes, aider les gestionnaires à gérer les conflits, le mauvais rendement et d'autres problèmes.
Répondre à des questions complexes liées à la gestion des ressources humaines.
Élaborer des outils, des ateliers de formation et des séances d'information à l'intention des employés ou des gestionnaires.
Collaborer et travailler avec les gestionnaires sur la planification de la relève, la gestion des talents et l'apprentissage et le perfectionnement.
Contribuer à l'amélioration des processus RH et collaborer avec tous les membres de l'équipe mondiale de RH.
Formuler des recommandations salariales fondées sur les pratiques exemplaires en matière de rémunération.
Effectuer une analyse des besoins et soutenir les gestionnaires dans la planification de l'effectif. Jouer un rôle clé dans notre transformation organisationnelle.
Introduire et administrer un système de rapports pour employés pour permettre aux employés de soulever des problèmes de manière anonyme ou sur une base nommée. Établir des mécanismes pour rendre compte de la mobilisation des employés.
Augmenter l'utilisation et l'engagement avec le système Bamboo HR.
Assurer la prestation d'un processus efficace d'examen du rendement.
Vous devriez avoir
Minimum de 3-5 ans d'expérience en tant que généraliste des ressources humaines.
Désignation PRHC.
Bilinguisme (français et anglais), tant à l'écrit qu'à l'oral.
Capacité d'évoluer dans une organisation mondiale multisites et dans un environnement en constante évolution.
Solides compétences en communication, en influence et en relations interpersonnelles avec tous les niveaux de gestion et d'employés.
Solides compétences en développement organisationnel dans un environnement transformationnel.
Pragmatisme et réflexion stratégique pour résoudre des problèmes opérationnels et/ou très complexes.
Connaissance approfondie de tous les domaines des ressources humaines, y compris la gestion de la performance et les relations avec les employés, les questions d'égalité et de diversité, la gestion du changement, la rémunération, le développement organisationnel et la gestion des talents.
Connaissance avancée de la suite Microsoft.
Approche flexible.
Bien si vous avez ce qui suit…
Expérience de travail dans l'industrie du logiciel et de la technologie.
Expérience de travail dans un environnement en évolution rapide.
Expérience avec BambooHR ou un système similaire.
Ce que nous offrons
Avec les valeurs de notre entreprise, notamment « Nous visons l'excellence, rien de moins », nous nous engageons à embaucher les meilleur(e)s candidat(e)s et à les récompenser en conséquence.
Environnement de travail au rythme rapide avec une liberté créative pour mettre vos idées en œuvre.
Collaboration avec des leaders d'opinion reconnus pour avoir un impact réel dans cette industrie en constante évolution.
Horaires de travail flexibles et possibilité de télétravail.
Atmosphère de travail passionnante dans une équipe ambitieuse, diversifiée et agile.
Possibilités de développement personnel et formation pour atteindre vos objectifs de carrière.
Nous sommes à la recherche de personnes exceptionnelles. Si vous croyez que vous pouvez ajouter de la valeur à l'entreprise et continuer à la faire avancer, postulez maintenant.
Nous aimons ce que nous faisons. Nous voulons travailler avec vous.
Nous sommes un employeur souscrivant au principe de l'égalité d'accès à l'emploi.
Description
We are now looking for a talented Human Resources Manager with a high level of human resources generalist knowledge to join our Montreal team. In this role you will be working alongside our UK HR Lead to review the HR function in Montreal and identify a blueprint for the future in supporting best practices for the HR department in our fast-paced and growing company. The successful candidate will have a proven track record in effective problem solving and critical thinking skills and will be responsible for delivering all aspects of the HR function to the Montreal office, including all administrative tasks.
What you will do
Provide professional HR advice to line managers, considering best practices and trends, and ensuring that HR management decisions and practices meet legislation as well as company rules and values.
Ensure the effective provision of all HR administrative tasks relating to the full employee life cycle.
Conduct investigations, assist managers in managing conflict, poor performance and other issues.
Answer complex questions related to human resources management.
Develop tools, training workshops and information sessions for employees and/or managers.
Collaborate and work with managers on succession planning, talent management and learning and development.
Contribute to the improvement of HR processes and collaborate with all members of the global HR Team.
Make salary recommendations based on compensation best practices.
Conduct needs analysis and support managers in workforce planning. Play a key role in our organisational transformation.
Introduce and manage an Employee Reporting System to allow employees to raise issues either anonymously or on a named basis. Establish mechanisms for reporting on employee engagement.
Increase the use of and engagement with the Bamboo HR system.
Ensure the delivery of an effective performance review process.
You should have
Minimum of 3-5 years of experience as a Human Resource Generalist.
CHRP designation.
Bilingualism (French and English), both written and spoken.
Ability to evolve in a multi-site global organisation and in a constantly changing environment.
Strong communication, influencing and interpersonal skills with all levels of management and employees.
Strong organisational development skills in a transformational environment.
Pragmatism and strategic thinking to solve operational and/or highly complex issues.
Thorough knowledge of all areas of human resources including performance management and employee relations, equality and diversity issues, change management, compensation, organisational development, and talent management.
Advanced knowledge of the Microsoft suite.
Flexible approach.
Great if you have
Experience working in the software / tech industry.
Experience working in a rapidly changing environment.
Experience with BambooHR or similar system.
What we offer
With our company values including 'We strive for great, not good', we are committed to hiring the best candidates and reward accordingly.
Fast-paced work environment with creative freedom to implement your ideas.
Collaboration with recognized thought leaders making a real impact in this ever-evolving industry.
Flexible working hours and ability to work remotely.
Exciting working atmosphere in an ambitious, diverse, and agile team.
Personal development and training opportunities for realizing your career goals.
We are looking for exceptional people. If you believe you can add value to the company and continue to drive it forward, apply now.
We love what we do. We want you too as well.
We are an Equal Opportunity Employer.
Department

HR

Role

HR Manager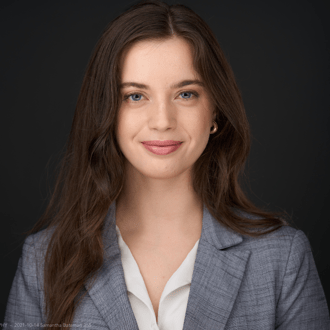 Contact
Clara D'Alessandro
Conseillère en acquisition de talents / Talent Acquisition Advisor – HR
Already working at Integria Consulting?
Let's recruit together and find your next colleague.