Consultant(e) en ressources humaines
We usually respond within a day
Désirez-vous travailler pour une organisation qui vous permettra d'être vous-même et d'avoir un impact?
Aimeriez-vous développer votre expertise en collaborant avec des professionnels expérimentés sur des projets de développement et de stratégie RH et DO?
Voudriez-vous évoluer dans le monde de la consultation en ayant l'opportunité d'avoir une proximité avec les clients?
QUI NOUS SOMMES
ON est une firme-conseil en pleine expansion, qui fournit un support complet dans le domaine des ressources humaines, du développement organisationnel et de la rémunération ! Nous sommes passionnés par la façon dont notre travail et notre équipe peuvent contribuer à la vision de nos clients et ce, autant pour nos clients de la grande région de Montréal que nos clients issus des Premières Nations. Notre approche est personnalisée aux besoins et aux réalités de nos clients et nous croyons fermement qu'au-delà de la qualité de notre travail, c'est notre façon de faire qui fait la toute différence.
Nous nous distinguons des autres firmes de consultation par le fait que nous misons davantage sur la qualité des services que nous offrons, la durabilité de nos relations de longue date avec nos clients et la collaboration au sein de notre équipe. Nous sommes déterminés à offrir un travail de qualité et à renforcer les capacités de votre organisation par le biais de vos ressources.
Notre équipe dévouée est composée de professionnels avec des profils et expériences variés, unis par la volonté de faire une différence !
Description du poste
CE QUI VOUS ATTEND
En collaboration avec l'équipe de projets et le client, le consultant(e) participe à la conception, l'élaboration et l'implantation de politiques, programmes, processus et outils divers en ressources humaines et en développement organisationnel. Le consultant (e) sera appelé à jouer un rôle de partenaire ressources humaines auprès des clients en les conseillant sur divers aspects des ressources humaines et en les accompagnant dans la mise en place des solutions proposées.
Voici un aperçu des principales responsabilités d'un consultant(e) :
Assurer un rôle d'expert-conseil et de partenaire au niveau des ressources humaines et du développement organisationnel, tant d'un point de vue stratégique qu'opérationnel.
Collaborer avec les clients afin d'analyser leurs besoins et définir les mandats.
Réviser, développer et mettre en place des plans d'action, programmes, politiques, stratégies et outils de ressources humaines adaptés pour le client.
Agir comme partenaire dans la gestion du changement et accompagner et former les gestionnaires dans l'implantation des plans d'action.
Offrir du soutien et de l'encadrement aux analystes attitrés sur les mandats.
Collaborer à la rédaction des offres de services.
Qualifications
CE QUE NOUS RECHERCHONS
Baccalauréat en ressources humaines, administration, gestion, développement organisationnel ou tout autre domaine pertinent;
Maîtrise en ressources humaines, gestion, développement organisationnel ou autre domaine pertinent (atout);
7-10 ans d'expérience en ressources humaines et/ou développement organisationnel dans le cadre de projets RH (ex : restructuration, planification stratégique, programmes de gestion de la performance, développement des compétences, planification de la relève, etc.);
Expérience dans un contexte culturellement diversifié ou auprès des Premières Nations (atout);
Parfaitement bilingue (Anglais indispensable);
Excellentes habiletés d'organisation et de gestion du temps;
Facilité à travailler de façon autonome et en équipe;
Voyagement 15% du temps.
Informations complémentaires
Nos employés sont une priorité absolue. Nous avons une équipe diversifiée, dynamique et collaborative et rester connecté et engagé est important pour nous.
Nos valeurs de passion, de collaboration, d'excellence, de curiosité et de confiance sont au cœur de nos actions et nous nous engageons à investir dans les opportunités de développement et de croissance de nos employés.
Nous favorisons un environnement de travail stimulant où chacun est encouragé à partager ses idées et se développer à son plein potentiel.
Nous offrons à nos employés des conditions de travail flexibles et bien que nous ayons un excellent bureau au centre-ville de Montréal, le travail à domicile est une option (et actuellement une réalité pendant COVID).
Notre travail est important, mais nous prenons le temps de s'amuser puisque nous croyons sincèrement qu'aimer ce qu'on fait est essentiel.
Are you interested in working in an organization where you can be yourself and have an impact?
Would you like to develop your expertise while collaborating with experienced professionals on the development of strategic HR and OD projects?
Would you like to grow your career within the consulting world while having the opportunity to have proximity with clients?
WHO WE ARE
Our Company is a rapidly growing boutique consulting firm that provides full-service support in the areas of human resources, organizational development, and compensation. We are passionate about how our work and our team can contribute to our clients' vision, working in the Greater Montréal region as well as with First Nations communities in the North. Our approach is personalized to both our clients' needs and realities, and we strongly believe that it is "more than what we do, it's how we do it" that has an impact.
Different from some larger consulting firms, we focus more on the quality of the services we offer, the sustainability of our work, the relationships that we foster, and the collaboration within our team. We are driven to provide the highest caliber of service and to build capacity through people.
Our dedicated team is made up of professionals with varied backgrounds and professional profiles who are connected by extensive professional experience along with a drive to make a difference.
Job Description
WHAT AWAITS YOU
Working in close collaboration with both the project team and client, the Consultant participates in designing, developing and implementing various Human Resources and Organizational Development programs, processes, policies, tools, and initiatives. The Consultant acts as a human resources expert (business partner) to clients by advising on various aspects of human resources, as well as accompanying clients in the implementation of the proposed solutions.
The main responsibilities of a Consultant are to:
Provide expertise in human resources and organizational development, both strategic and operational;
Collaborate with clients in order to assess needs and define projects and deliverables;
Review, develop and implement action plans, programs, strategies and various tools customized for each client and their reality;
Act as a partner in change management initiatives;
Support and train managers and staff in the implementation of action plans;
Provide guidance and mentorship to Analysts assigned to project teams;
Contribute to the development of the consulting services proposals;
Qualifications
WHAT WE ARE LOOKING FOR
Bachelor's Degree in Human Resources, Administration, Management, Organizational Development or other relevant field;
Masters Degree in Human Resources, Management, Organizational Development or other relevant field is an asset;
7-10 years of experience in Human Resources and/or Organizational Development projects, such as organizational redesign, strategic planning, performance management, competency development, process mapping, and succession planning;
Experience working in culturally diverse contexts or with First Nations is an asset;
Fully bilingual (English is essential);
Excellent organizational and time management skills;
Ability to work independently and in a team;
Ability to travel up to 15% of the time.
Additional Information
WHAT'S IN IT FOR YOU!
Our employees are our highest priority. We have a diverse, vibrant, collaborative team and staying connected and engaged is important to us.
We live our values of Passion, Collaboration, Excellence, Curiosity and Trust and are committed investing in opportunities for continued employee development and growth.
We promote a nurturing work environment where everyone is encouraged to contribute ideas and stretch themselves to their full potential.
We offer our employees flexible working conditions and although we have a great office in Montreal's downtown core, working from home is an option (and right now a reality during COVID).
We have fun! Work is important, but enjoying what we do is fundamental to our success.
We have big growth plans and this is an exciting time to join us on our journey.
Department

HR

Remote status

Hybrid Remote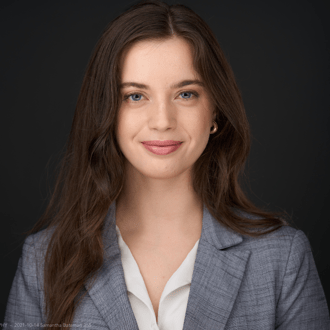 Contact
Clara D'Alessandro
Conseillère en acquisition de talents / Talent Acquisition Advisor – HR
Opportunités | Opportunities
Consultant(e) en ressources humaines
Loading application form
Already working at Integria Consulting?
Let's recruit together and find your next colleague.