Gestionnaire des ressources humaines
We usually respond within a day
Voici un travail pour vous si vous êtes motivé(e) à apprendre de manière indépendante et enthousiaste à l'idée de créer des équipes à partir de zéro tout en ayant à l'esprit de les construire pour durer et grandir!

Il s'agit d'un poste très stratégique où vous aurez la capacité d'influencer toutes les sphères des opérations. Nous sommes petits et puissants, avec une grande satisfaction et rétention des employé(e)s. Nous avons toutefois pris beaucoup trop d'ampleur pour tout faire nous-mêmes. Nous avons besoin d'un(e) gestionnaire des ressources humaines qui nous aidera à nous développer et à grandir en tant qu'individus et en tant qu'entreprise.
Nous disposons déjà des bons outils, processus et fournisseurs et avons fait de notre mieux pour démarrer du bon pied. Vous n'arriverez donc pas dans le chaos, mais aurez plutôt une merveilleuse occasion d'influencer notre avenir.
Nous voulons avoir de vos nouvelles si vous aimez aider à créer des entreprises et des équipes, de la manière la plus cohérente qui soit — cela signifie que vous n'avez pas peur de poser beaucoup de questions et que vous n'avez certainement pas peur de dire « attendez une minute, avons-nous vraiment besoin de le faire de cette façon? »
Vous serez entouré(e) d'une petite équipe. Il est important que vous soyez un joueur d'équipe qui aime travailler avec des gens de tous les horizons et de tous les échelons. En tant que l'un(e) des premiers(ières) membres de l'équipe Personnes et Talents, vous contribuerez grandement à donner le ton et la culture des bureaux de Montréal et de l'espace virtuel.
Vous planifierez, organiserez et mettrez en œuvre des initiatives de ressources humaines et soutiendrez la stratégie d'entreprise et les objectifs de croissance. Vous serez à la fois stratégique et pratique et fournirez une expertise en ressources humaines dans les domaines des relations avec les employé(e)s, de la rémunération, de la paie, des avantages sociaux, de la gestion du rendement, de la gestion des talents, des initiatives de culture d'entreprise et plus encore.
Vous servirez de leader et de partenaire d'affaires auprès de l'équipe de direction sur les questions de ressources humaines. Vous possédez de solides connaissances de tous les domaines des ressources humaines, y compris la gestion de la performance et les relations avec les employé(e)s, les questions d'égalité et de diversité, la gestion du changement, la rémunération, le développement organisationnel et la gestion des talents.
Voici les tâches que vous effectuerez le plus souvent :
Assurer la fourniture efficace de toutes les tâches administratives de RH et relatives au cycle de vie complet de l'employé(e).
Soutenir l'équipe de direction en lui fournissant un soutien sur les questions liées aux employé(e)s.
Mettre en œuvre des programmes pour aider à améliorer l'expérience et la rétention des employé(e)s.
Élaborer, mettre en œuvre et rendre compte d'un plan de perfectionnement des gestionnaires et des employé(e)s pour aider chaque personne à remplir son rôle et à se préparer pour le rôle qu'elle veut jouer par la suite.
Répondre aux questions générales de RH liées aux relations avec les employé(e)s, aux outils et à d'autres demandes de renseignements, ce qui peut inclure la fourniture de conseils et d'interprétation de la politique des ressources humaines, au besoin.
Administrer et améliorer notre processus de gestion du rendement
Travailler avec nos fournisseurs de paie et de ressources humaines pour nous assurer que nous respectons la conformité et les exigences légales liées à la gestion quotidienne des employé(e)s; dans le but de réduire les risques juridiques et d'assurer la conformité réglementaire.
Développer, analyser et présenter des mesures et des idées pertinentes à l'entreprise pour stimuler l'orientation et l'exécution de la stratégie.
Élaborer des outils, des ateliers de formation et des séances d'information à l'intention des employé(e)s et/ou des gestionnaires.
Être responsable de nos outils de communication tels que les manuels de l'employé(e) et du gestionnaire.
Élaborer des ateliers de formation et des séances d'information à l'intention des employé(e)s et/ou des gestionnaires.
Collaborer et travailler avec les gestionnaires sur la planification de la relève, la gestion des talents et l'apprentissage et le perfectionnement.
Contribuer à l'amélioration de tous les processus des ressources humaines.
Faire des recommandations salariales basées sur les meilleures pratiques de rémunération.
Soutenir nos processus pour nous assurer que nous respectons les lois linguistiques et l'accès aux ressources françaises.
Gérer et participer à l'acquisition de talents, y compris la gestion de l'acquisition de talents et des recruteurs au besoin.
Administrer le budget et les dépenses associés aux ressources humaines
Quelques trucs supplémentaires que nous aimons :
Vous comprenez les RH et pourquoi il est important que nous suivions les directives appropriées; vous êtes heureux(euse) de recommander des améliorations et êtes prêt(e) à les réaliser.
Vous aimez travailler avec les gens et serez heureux(euse) que ce soit au moyen d'appels vidéo à distance ou en personne.
Vous pouvez utiliser les outils essentiels comme un système RH ou une base de données de recrutement. Vous aimez travailler avec des organisations de paie et de soutien aux RH.
Vous pouvez non seulement accomplir plusieurs tâches simultanément, mais vous vous épanouissez en sachant que même s'il y a beaucoup à faire, il vous suffit de définir les bonnes priorités.
Vous êtes bilingue avec de fortes connaissances en français (à l'oral et à l'écrit) pour des communications faciles et fluides. Nous travaillons principalement en anglais, car nos clients sont anglophones.
Vous ne pouvez pas vous en empêcher, mais vous faites toujours preuve d'un esprit critique.
Vous êtes toujours à la recherche de moyens de faire mieux avec les gens, et vous êtes prêt(e) à aider à apporter ces améliorations.
Vous êtes passionné(e) par la création d'une expérience incroyable pour les employé(e)s.
Vous avez un minimum de 3-5 ans d'expérience en tant que généraliste en ressources humaines.
Ce que nous offrons :
Un ensemble complet d'avantages sociaux pour tous(tes) les employé(e)s permanent(e)s à temps plein, y compris les soins de santé et dentaires, l'assurance-vie, l'invalidité de courte et de longue durée, les indemnités de vacances et de maladie, les jours fériés payés et les cotisations de retraite, dès votre premier jour d'emploi.
Nous sommes une entreprise qui favorise le télétravail et privilégions la région de Montréal, nous sommes toutefois ouverts aux candidat(e)s établi(e)s partout dans le fuseau horaire de l'Est du Canada. Idéalement, vous commenceriez le travail dès que possible.

~~~~~~~~~~~~~
This is the job for you if you are an independent and self-motivated learner, and excited about building teams from scratch – but building them to last and grow!
This is a very strategic role where you will have the ability to influence all areas of the operations. We are small and mighty, with great employee satisfaction and retention. We are getting too big now to do it by ourselves. We need a Human Resources leader who will help us to develop and grow as individuals and at the company level.
We already have good tools, processes and suppliers. We did our best to start off on the right foot. So, you won't be walking into a mess but you will have a wonderful opportunity to influence our future.
We want to hear from you if you love to help build companies and teams, in a way that makes sense – that means you're not shy to ask lots of questions, and definitely not scared to say "wait a minute, do we really need to do it this way?"
You'll have a small team. It's important that you be a team player who likes to work with people of all kinds and at all levels. As one of our first People & Talent hires, you'll be a huge contributor to setting the tone and culture for the Montreal and virtual offices.
You will plan, organize, and implement Human Resources initiatives as well as support the business strategy and growth objectives. You will be both strategic and hands-on, providing Human Resources expertise in the areas of employee relations, compensation, payroll, benefits, performance management, talent management, company culture initiatives and more.
You will serve as a leader and business partner to leadership on human resource-related issues. Strong knowledge of all areas of human resources including performance management and employee relations, equality and diversity issues, change management, compensation, organisational development, and talent management.
These are the tasks you will be doing most often:
Ensure the effective provision of all HR administrative tasks relating to the full employee life cycle
Support the leadership team in providing support on employee related issues
Implement programs to help improve the employee experience and retention
Develop, implement and report on both a manager and employee development plan to help each individual perform in their role and also get ready for the role they want to do in the future
Answer general HR questions related to employee relations, tools and other inquiries which may include providing Human Resource policy guidance and interpretation as needed
Manage and improve our performance management process
Work with our payroll and HR providers to ensure we follow compliance and legal requirements related to day-to-day management of employees; with the intent of reducing legal risks and ensuring regulatory compliance
Develop, analyze and present relevant metrics and insights to the business to drive the focus and execution of strategy
Develop tools, training workshops and information sessions for employees and/or managers
Be responsible for our communication tools such as the manager and the employee handbooks
Develop training workshops and information sessions for employees and/or managers
Collaborate and work with managers on succession planning, talent management and learning and development
Contribute to the improvement of all Human Resource processes
Make salary recommendations based on compensation best practices
Supporting our processes to ensure we are respecting language laws and access to French resources
Manage and participate in Talent Acquisition including the management of Talent Acquisition/Recruiters as needed
Manage Human Resources budget and expenses
Some extra stuff we love:
You not only understand what HR is about and why it is important we follow proper guidelines; you are happy to recommend improvements and are willing to make them happen
You love to work with people and will be happy whether that is via remote video calls or in person
You can make your way around critical tools like an HR system or recruiting database. You enjoy working with payroll and HR support organizations
You not only multitask but you thrive on knowing that although there is a lot to do, you just need to set the right priorities
You are bilingual with strong French (verbal and written) communications that are easy and fluid. We work mostly in English, as our clients are English
You can't help it but you are always a critical thinker
You are always looking for ways to do better with respect to people, and you are willing to help bring about those improvements.
You are passionate about creating an amazing employee experience
You have a minimum of 3-5 years of experience as a Human Resource Generalist.
What we offer:
A complete benefits package to all permanent, full-time employees, including health and dental care, life insurance, short and long-term disability, vacation and sick pay, paid public holidays and pension contributions, from your first day of employment.
We are a remote-first company and the Montreal region is preferred, but we are open to candidates anywhere in the EST time zone in Canada. Our ideal start date is ASAP.
Remote status

Hybrid Remote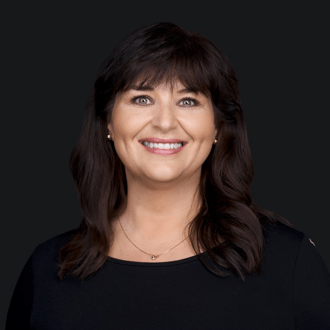 Contact
Mandy Danko
Conseillère principale en acquisition de talents / Senior Talent Acquisition Advisor – HR
Gestionnaire des ressources humaines
Loading application form
Already working at Integria Consulting?
Let's recruit together and find your next colleague.