Chef du SIRH
We usually respond within a day
Le/La chef du SIRH est responsable des activités à l'appui du SIRH notamment le soutien du système et la résolution des problèmes, les rapports de RH, l'analyse et l'optimisation des processus et systèmes opérationnels, et la mise en œuvre de nouveaux systèmes ou fonctionnalités. La personne qui occupe ce poste aura aussi à collaborer avec l'équipe des ressources humaines pour configurer les rôles de sécurité, tableaux, flux de travail et règles d'affaires, en assurant l'intégrité des données, l'utilité des données critiques du personnel et la création de travaux, de politiques et de procédures standards entourant la maintenance et l'application du SIRH. Enfin, le/la titulaire du poste participera à la stratégie et à l'exécution des rapports d'opération et de conformité des RH.
Responsabilités professionnelles
Coordonner et participer à la mise en œuvre de nouveaux systèmes, modules ou fonctionnalités RH, en collaboration avec les différentes équipes impliquées (RH, TI, Paie, Finances), et assurer les communications liées à ces différents projets
Concevoir des programmes de formation et des procédures de travail, et agir à titre de personne-ressource
Soutien du système et résolution des problèmes : Aider à l'administration de divers flux (HCM, Rémunération, Talent, Performance, Absence, Temps et Paie) pour la configuration, les tests, la sécurité des rôles, l'éducation et le dépannage
Prendre en charge la mise en œuvre du système SIRH pour différentes régions pour le Canada, l'Amérique du Nord et les Philippines
Travailler en étroite collaboration avec les différents fournisseurs externes pour assurer une bonne correspondance entre les systèmes et les politiques internes
Assurer la sécurité des données, les mises à jour du système ainsi que l'exactitude et l'intégrité des données en collaboration avec l'équipe informatique,
Analyse des processus et systèmes : Analyser les processus opérationnels et systèmes fonctionnels des RH et recommander des améliorations pour répondre aux besoins opérationnels
Intégrité des données : Assurer les respects des normes de données grâce à l'automatisation, à la mise en place de contrôles préventifs, aux vérifications de données et à la collaboration avec l'entreprise pour les corrections
Rapports : Établir et tenir à jour des rapports d'affaires et de conformité et des tableaux de bord pour les dirigeants. Développer les compétences des utilisateurs pour accéder aux données ou les examiner
Feuille de route technologique des RH : Aider à la planification du soutien de la technologie des RH, y compris la planification des lancements (mises à niveau), la consultation auprès des entreprises pour s'assurer que les applications répondent à leurs besoins actuels et futurs
Exigences
Diplôme universitaire en RH, gestion des technologies de l'information, administration des affaires ou autre discipline pertinente ou formation et expérience équivalentes
Un minimum de 7 à 9 ans d'expérience en RH, en intelligence d'affaires ou en technologie de l'information
Excellente connaissance pratique du SIRH
Bilingue (français et anglais)
---
The HRIS Lead is responsible for activities in support of the HRIS including system support & problem resolution, HR reporting, analysis of business & system processes and optimization, and new system or functionality implementation. This position works with the Human resources team on configuration of security roles, tables, workflow and business rules, ensuring data integrity, usefulness of critical people data, and creation of standard work, policies and procedures around HRIS maintenance and application. Lastly, this position is involved in business and compliance HR reporting development strategy and delivery.
Job Responsibilities
Coordinates and participates in the implementation of new HR systems, modules or functionalities, in collaboration with the various teams involved (HR, IT, Payroll, Finance), and ensures communications related to these various projects
Designs training programs and work procedures, and acts as a resource person
System Support & Problem Resolution: Assist with administration for various stream (HCM, Compensation, Talent, Performance, Absence, Time and Payroll) for configuration, testing, role security, education, and troubleshooting
Prime leader for implementation of HRSI system for different regions for Canada, North America and Philippines
Works in close collaboration with the various external suppliers to ensure a good match between the systems and the internal policies
In collaboration with the IT team, ensures data security, system updates and data accuracy and integrity
Process & System Analysis: Analyse HR functional business & system processes and recommend improvements to meet business needs
Data Integrity: Ensuring data standards through automation, set up of preventative controls, data audits and working with the business for corrections
Reporting: Establish and maintain business and compliance reports and dashboards for leaders. Build competence of users for accessing/reviewing data
HR Technology Roadmap: Assist with the sustainment planning for HR technology including the release (upgrades) planning, consulting with businesses to ensure applications meet their current and future needs
Requirements
University degree in HR, management information technology, business administration or other relevant discipline or equivalent training and experience
A minimum of 7-9 years of experience in HR, business intelligence or information technology
Excellent working knowledge of HRIS
Bilingual (French and English)
Remote status

Hybrid Remote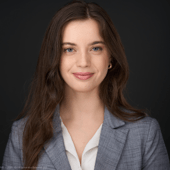 Contact
Clara D'Alessandro
Conseillère en acquisition de talents / Talent Acquisition Advisor – HR
Already working at Integria Consulting?
Let's recruit together and find your next colleague.