Gestionnaire de l'Ingénierie des Aérostructures
We usually respond within a day
 Le gestionnaire de l'Ingénierie des Aérostructures (Contraintes) fournit un soutien quotidien à l'équipe de conception, dirige une équipe chargée de la validation structurale et génère la documentation associée. Relevant du Chef Ingénieur, le candidat assistera également dans l'estimation des activités liées à l'analyse, la gestion de projet et le développement des meilleures pratiques en matière d'analyse.
Fonctions :
Dans votre rôle de gestionnaire des Aérostructures, vous devrez :
Diriger une équipe d'ingénieurs des contraintes sur les programmes de modification d'aéronefs
Agir en tant que facilitateur et mentor pour faire progresser l'équipe grâce à une gestion de projet efficace et au leadership des activités quotidiennes, ainsi qu'à la coordination des tâches de développement de produits.
Superviser la préparation de documents de conformité formels pour répondre aux exigences de certification.
Effectuer diverses analyses de contraintes telles que la résistance statique, la fatigue/durabilité, la tolérance aux dommages et le modèle à éléments finis (FEM) pour les structures métalliques et composites.
Planifier, superviser, coordonner et hiérarchiser les activités d'une équipe d'ingénieurs des contraintes pour atteindre les objectifs de qualité, de calendrier et de budget de l'entreprise.
Fournir un leadership technique à tous les membres de l'équipe pour accomplir les exigences du programme.
Travailler en étroite collaboration avec d'autres fonctions d'ingénierie/PMO (conception mécanique/structurale, conception électrique et avionique, systèmes hydro-mécaniques, navigabilité, etc.) ainsi qu'avec les opérations du client (méthodes, qualité, production, PMO).
Contribuer à l'amélioration des processus commerciaux, à l'amélioration de la satisfaction client et à la réalisation des objectifs stratégiques.
Assurer une gestion efficace de toutes les tâches liées aux structures, aux installations de systèmes et à l'intégration en travaillant en étroite collaboration avec les autres départements d'ingénierie, les clients internes et externes, et les partenaires majeurs.
Assurer la visibilité de l'exécution, des problèmes et des escalades, au besoin, à la direction.
Maintenir des connaissances techniques et une veille des développements liés aux structures des aéronefs/systèmes.
Soutenir les activités de planification de la main-d'œuvre et de préparation du budget.
Qualifications :
Le candidat devra posséder :
Un baccalauréat ou une maîtrise en génie aéronautique ou mécanique d'une université accréditée.
Un minimum de dix (10) ans d'expérience dans l'industrie aérospatiale.
Une solide compréhension de l'optimisation de la configuration de l'aéronef, des charges, de l'analyse des contraintes, des matériaux, des processus de fabrication, du poids et de l'équilibre, ainsi que des exigences structurelles en service.
Une solide compréhension des règles de certification des aéronefs civils et de l'expérience dans les procédures de certification. Expérience en analyse statique sur de grandes structures d'aéronefs (préférée).
Une expérience en modélisation par éléments finis sur MSC Patran/NASTRAN, FEMAP ou des logiciels similaires.
Une expérience en tolérance aux dommages et en analyse de la fatigue. Connaissance d'AFGROW ou d'une application similaire.
De bonnes compétences à l'oral et à l'écrit en anglais sont requises.
Le candidat devra faire preuve d'initiative, d'un fort sens des responsabilités et d'un bon jugement en ingénierie.
Le candidat devra être disponible pour voyager si nécessaire.
Ce que nous offrons :
Salaire très compétitif
Conciliation entre le travail et la vie familiale
Environnement de travail stimulant et non discriminatoire
Horaire flexible avec possibilité de travail à domicile
Avantages sociaux complets et contributions au régime de retraite
4 semaines de congé (dont 1 semaine pendant les vacances de Noël)
---
The Manager Aerostructures Engineering (Stress) provides day-to-day support to the design team, leads a team that performs structural substantiations and generates associated documentation. Reporting to the Chief Engineer, the candidate will also assist in estimating analysis-related activities, project management and development of analysis best practices.
Duties
In your role as Manager Aerostructures, you will:
Lead a team of Stress Engineers on aircraft modification programs.
Act as a facilitator and mentor in moving the team forward through effective project management and leadership of the day-to-day activities and coordination of product development tasks.
Supervise preparation of formal compliance documents to fulfill certification requirements.
Perform various stress analyses of Static Strength, Fatigue/Durability, Damage Tolerance, and Finite Element Model (FEM) for metallic and composite structures.
Plan, oversee, coordinate, and prioritize activities of a team of Stress Engineers to achieve company quality, schedule, and budget objectives.
Provide technical leadership to all team members to accomplish Program requirements.
Work in close cooperation with other Engineering/PMO functions (Mech/ Structural Design, Electrical & Avionics Design, Hydro-Mechanical Systems, Airworthiness, etc.) and Client Operations (Methods, Quality, Production, PMO).
Contribute to improve business processes, enhance customer satisfaction, and meet strategic goals.
Ensure effective management of all tasks related to Structures, Systems Installations, and Integration by closely working with other Engineering departments, internal and external customers, and Major Partners.
Provide visibility on the execution, issues, and escalations, as needed, to management.
Maintain technical knowledge and awareness of developments related to Airframe/Systems structures.
Support manpower planning activities and budget preparation.
Qualifications:
The candidate shall possess:
A Bachelor's or Master's degree in Aeronautical or Mechanical Engineering from an accredited university.
A minimum of ten (10) years experience in the aerospace industry.
A strong understanding of Airframe configuration optimization, loads, stress analysis, materials, manufacturing processes, weight and balance, and structural in-service requirements.
A strong understanding of civil aircraft certification rules and experience in certification procedures Experience of static analysis on large airframe structures (preferred).
experience in Finite Element Modeling on MSC Patran/NASTRAN, FEMAP or similar.
Experience in Damage Tolerance and Fatigue Analysis. Knowledge of AFGROW or similar application.
Good oral and writing skills in English are required.
The candidate shall have initiative, a strong sense of responsibility and good engineering judgement.
The candidate shall be available for travel if necessary.
What we offer:
Very competitive salary
Conciliation of work and family life
Stimulating and non-discriminatory working environment
Flexible schedule with work from home options
Full benefits and pension plan contributions
4 weeks vacation (including 1 week during Christmas holidays)
Remote status

Hybrid Remote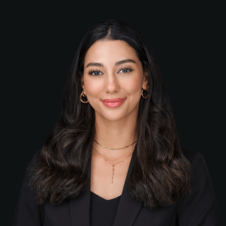 Contact
Reem Habiballa
Talent Acquisition Advisor – Accounting/Finance
Gestionnaire de l'Ingénierie des Aérostructures
Loading application form