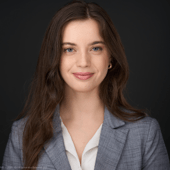 Clara D'Alessandro
Conseillère en acquisition de talents / Talent Acquisition Advisor – HR
En tant que Conseillère en acquisition de talents chez Integria, Clara est impliquée du sourçage à l'offre. Clara parle couramment l'anglais, le français et le portugais, ayant vécu au Brésil, en France, au Luxembourg et aux Bahamas. Elle apporte d'excellentes compétences en communication et en gestion de projets à chaque recherche. Clara est passionnée par le fait de redonner à la communauté et défend la diversité et l'inclusion. Elle a fait du bénévolat en tant que professeur de danse pour les enfants et les adultes atteints du syndrome de Down, a été assistante d'enseignement auprès d'enfants autistes et ayant des troubles d'apprentissage, et a animé des séances de thérapie de groupe pour les enfants orphelins. Clara est titulaire d'un baccalauréat ès arts en sociologie de l'Université McGill.
Envoyer un courriel à Clara : clara@integriaconsulting.com


As Talent Acquisition Advisor at Integria, Clara is involved from sourcing to offer. Clara is fluent in English, French and Portuguese, having lived in Brazil, France, Luxembourg and the Bahamas. She brings excellent communication and project management skills to every search. Clara is passionate about giving back to the community and is an advocate for diversity and inclusion. She has volunteered as a dance teacher to children and adults with Down's syndrome, was a teaching assistant for children with autism and learning disabilities, and has facilitated group therapy sessions for orphaned children. Clara earned a Bachelor of Arts in Sociology from McGill University.
E-mail: clara@integriaconsulting.com